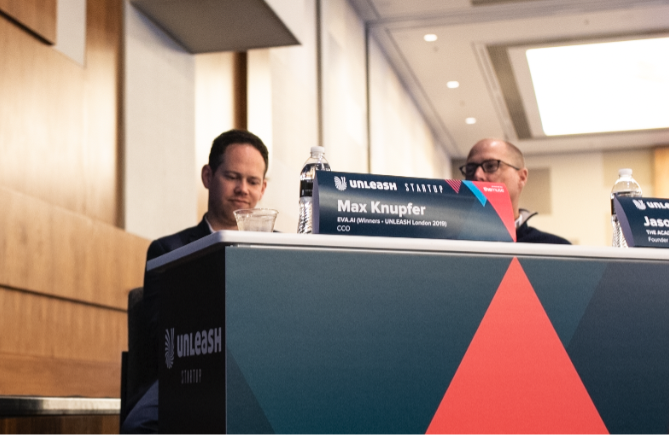 It's a Privilege
The excitement of winning the start-up of the year award at Unleash London 2019 with EVA.ai is still very fresh, so to be given the opportunity to become a judge for the USA equivalent start-up competition was a real privilege.
As a member of the leadership team for a start-up, these opportunities are very fulfilling, challenging and indeed an honour. In addition to enjoying the award event, the potential to observe some great displays of talent, technology and creativity is inspiring.
Although daunting at times, the experience of being both a participant and a winner of such a competition guided my thinking in what to look for in the participants of the USA competition. What in my previous experience as a participant helped me judge this year's Unleash 2019 Start-up competition?
The Winner is in the details
From the UK Unleash competition experience, the very first learning for me was to be precise when articulating our niche area of expertise and unique positioning. My approach during the US competition was to judge the ability of participants to be as clear as possible when describing the area of the market their technology or company operated in.
Defining a niche and a unique positioning requires the participant to have an in-depth knowledge of their market, competitive landscape and the trends influencing their market evolution. The questions and requests I directed at the participants were focused on obtaining those critical details.
Notwithstanding the expected nerves which were displayed by most of the participants, the passion and enthusiasm each and every participant showed was contagious and won praise both from the audience and judges; however, I was still looking for a high level of detail from the presenters.
JANE.ai Wins!At this year's Unleash USA 2019, many of the contestants for US HR Start-up of the year explored the use of increasingly available candidate and employee data to push the boundaries of personalisation, increased targeting and an interactive engagement experience.
One of the start-ups that caught my eye was SeekOut.io which uses a swat of data to provide an AI-powered "360-degree profile" of potential candidates – particularly those that have sparse or no LinkedIn profiles but may be qualified based on harder-to-find accolades. Anoop Gupta, a former technical assistant to Bill Gates, spoke about the scarcity of certain technical profiles and candidates (e.g. developers and engineers) who do not promote their experience or work effectively online. The feature that most stood out for me beyond the pooling of publicly available data across multiple platforms was the smart built-in diversity filters of the platform to reduce unconscious bias. This is based on a machine learning-driven search engine that understands past hiring patterns and detects those that may be problematic.
Another start-up: Cultivate.Ai looks at the internal communications between managers and their direct reports, in order to provide them with personalised and private insights on their relationships, and ultimately determine how to be a more effective manager.
The winner of this year's Unleash USA HR Tech Start-up was Jane.ai – founded by Dave Karandish the former CEO and founder of Answers Corporation which was sold for a whopping $900m in 2014 – an artificial intelligence platform connecting people with the information they need when they need it. Already boasting clients such as Newell Brands, Centene Corp and the Maryville University, Dave insisted the uniqueness of the Jane.ai "Megabot" lies in its ability to use natural language processing to search documents, teams and apps across multiple systems and pull out the info users are looking for. Jane.ai is a service in two parts. The aforementioned backend mines information from email and calendar apps like Gmail and Exchange, CRM systems such as Salesforce, health information and resource services like ADP and Sage, service desk platforms like Zendesk and cloud drive providers like Box and OneDrive. The second part is a Chatbot using Natural Language Processing (NLP) that integrates with popular messaging apps such as Skype or Slack. Users can simply say "Schedule 15 minutes with Ben and Gerry" and "I need the HSBC contract from August 2018" to have the platform execute the command.
Paris je t'Aime! EVA.ai will be present in Paris with the Winners of Unleash USA and Unleash Amsterdam for the grand finale where the world's most innovative Start-ups will compete for the 2019 Global Start-up of the Year Award. We are excited to be again participating in a Start-up competition, and I hope my experience as a winner and judge will help guide me in presenting EVA.ai with its blend of 3-leading technologies: AI-powered automation, NPL-Chatbot and intelligent Machine-learning, as a worthy recipient of the global award.