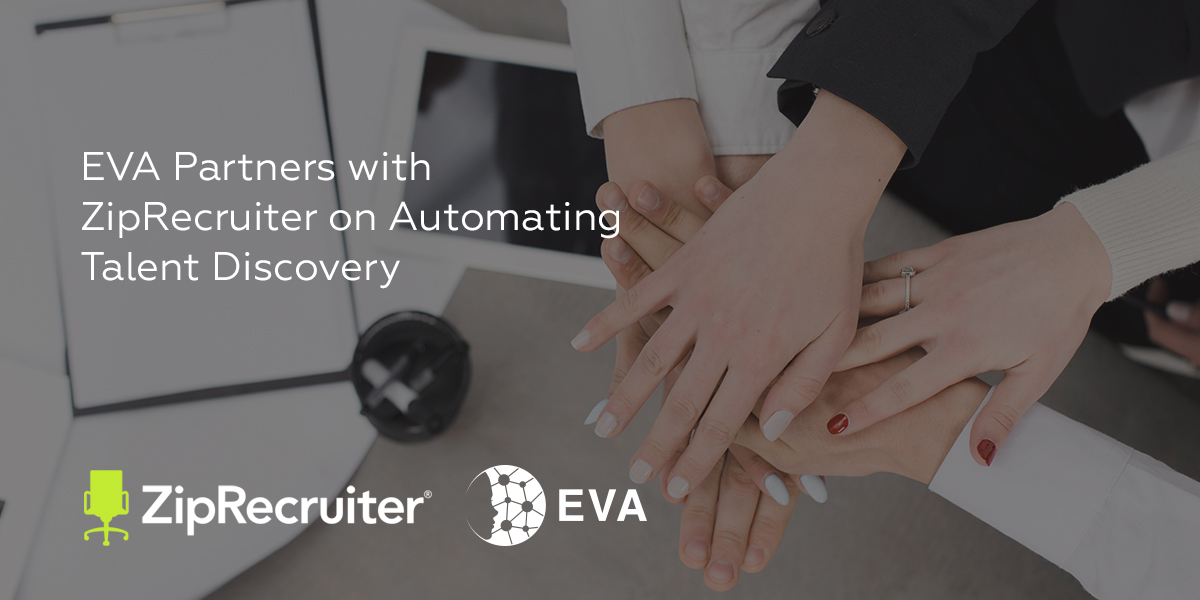 EVA was founded with the single mission to connect great people to great companies in the most efficient, productive and enjoyable way possible.
We're delivering on that promise with industry-award winning innovations in automating every critical step of the recruitment journey while simplifying the process for both hiring professionals and applicants. Our idea of a new kind of recruitment powered by a blend of best-in-class latest technologies was recognized this year as we were named UK 2019 HR Tech start-up of the year.
When the labor market is tightening, small businesses and large companies all compete to fill their positions. With low employment rates in the US (4%) and the UK (3.9%), it has become business-critical to find great talent quickly.
Now, we're delighted to announce our partnership with ZipRecruiter on a new feature in our platform that helps connect great candidates with more available opportunities faster and at scale. This partnership combines our AI-powered automation recruiting software with ZipRecruiter's broad marketplace reach.
This is exciting news! But what is this new feature in our "Find" module, and how will this partnership help companies find their next great hire?
Simply put, EVA's partnership with ZipRecruiter (the fastest-growing online employment marketplace) is about finding a job faster and easier than ever before. We provide direct access to our top-of-funnel platform, enabling employers to post their jobs to ZipRecruiter marketplace with the single press of a button. The benefits for employers and candidates are immediate:
Increased visibility to job postings: Millions of job seekers will have an easier time finding employers' job postings when they start their search on EVA.
Automated candidate pre-screening: We eliminate the need to post individually on third-party aggregators and/or multiple job boards. Instead, we offer the largest single starting point for finding great candidates using EVA matching and ZipRecruiter's job fitting algorithms.
If you have any questions about how to get the benefits of this partnership for talent discovery or talent sourcing, please reach out to an EVA account manager or sales rep, who will be happy to help.
We'll continue updating on new developments here at EVA, as this is just one of many exciting announcements we have lined up for this year. Stay tuned!