Finding the Right Talent...
The demands of the new digital landscape aka Recruitment 4.0, unearthed a new series of challenges that HR professionals must overcome. The internet has enabled a global marketplace for talent and as such even the most experienced recruiters are in a fight to find the best talent to hire.
In fact, research conducted by LinkedIn revealed that 46% of all HR professionals singled out "sourcing the right talent' as the biggest hurdle to hire. This problem is in part rooted in manual and cumbersome tasks that plague the recruitment process, legacy data systems and the unavailability of real-time data to drive strategic decision making across the hiring process.
EVA.ai's Intelligent Sourcing Module
At EVA.ai we are committed to building and implementing the right technology, at the right point of the hiring journey to transform this once industry-recognised hurdle, into a potential growth opportunity.
Here's some of the technology behind our solution:
Semantic Search
Whilst a recruiter is searching their database for candidates, entering a particular query or series of requirements often means they can miss out on other candidates that use different words to describe the same role/qualification.
Our semantic search solves this problem, because of its understanding of the informational context in which candidates convey their qualifications/experience within their CV's and the correlations to the recruiters' search query.
Using EVA.ai recruiters automatically gain access to a wider pool of candidates.
Job board Integrations
Our open-ended API's makes plugging EVA.ai into any job board possible. Within the platform, users can automatically import and sync candidates from job boards directly into our system.
We have live integrations with CV Library, TotalJobs, Jobsite, ZipRecruiter, Caterer.com, EmedCareers, CityJobs, CWJobs, Catererglobal.com, CareerStructure and Retail choice.
We're always more than open to expanding our job board functionality :)
Process Automation
The most time-consuming process when sourcing for candidates is shortlisting. A shocking industry statistic reveals: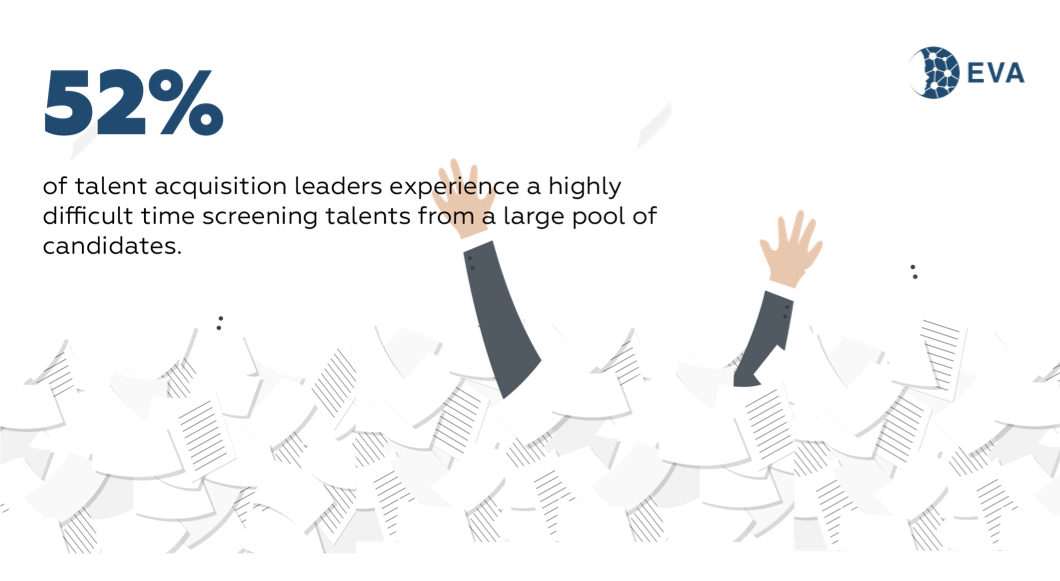 Powered by EVA.ai's award-winning semantic technology, our system finds and builds a highly targeted and relevant shortlist of the most suited talent to your vacancy.
Innovative process automation tools empower you to easily build smart talent pools based on a number of variables e.g level of experience, qualifications, industry, skills, hobbies, education etc.
Machine Learning
EVA.ai's always-on machine learning function understands why and when you reject or take a candidate forward in a vacancy pipeline.
This allows us to continuously improve your search and shortlist results.
Chatbots
Our omni-channel NLP-Chatbot allows you to onboard candidate directly from your website, careers page, slack, facebook etc.
Candidates information collected from the chatbot is immediately to the desired candidate profiles in real-time.
The Benefits
Cut Costs: EVA.ai's technology helps you find both passive and active candidate faster, reducing your hiring spend.
Reduce your time to fill: With EVA.ai sourcing the right talent goes from months to minutes
Diversity and Inclusion: EVA.ai's technology only runs on objective data, biases and human subjective opinions are eliminated from the hiring process.
Engage Effectively: Automate the process of candidate outreach with EVABot - our scalable and personalised candidate facing chatbot
Smart Talent Pools: Build intelligent and real-time talent pools from your candidate database, update your records in real-time